Getting engaged? Shop These Trendy Ring Designs
These 15 trendy engagement ring ideas, all of which come backed by expert opinions. Get ready to say yes to at least one (or let's be honest multiple) of these stunning designs.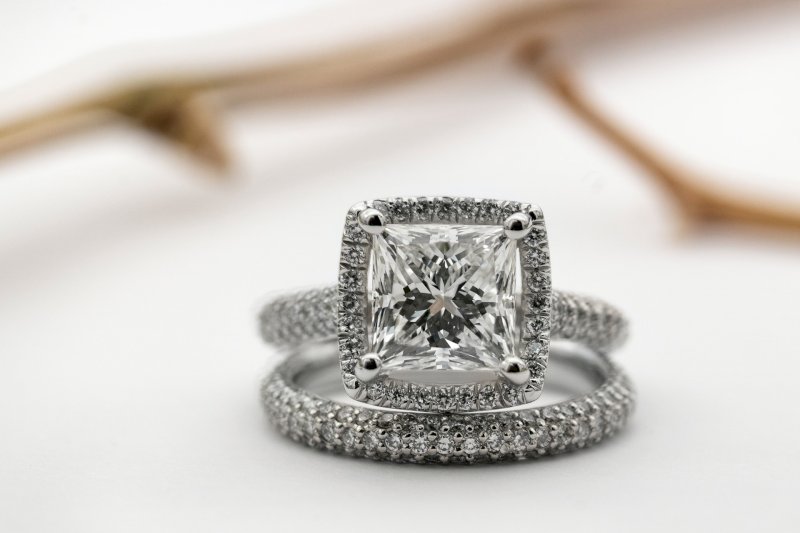 Neil Lane Diamond Engagement Ring ($1,999.99)
Fancy shaped diamonds are a growing trend among brides this year, with pear among the most popular shapes.
Pear-Shaped Blue And White Sapphire And Diamond Ring ($584.10)
A nontraditional, pear-shaped ring that has caught our eye is this vintage design, which showcases a blue sapphire stone front and center.
Verlas Emerald Halo Ring ($495)
The new diamond company Verlas is all about customization, allowing shoppers to decide on the diamond size, metal and even an engraving on each piece. Also, if you're wavering between a few designs, the company can send you a try-at-home box with replicas of your favorite pieces. However, this emerald-cut diamond ring, which features a halo and diamond band, is a no-brainer.
Vera Wang Love Collection Oval Three Stone Engagement Ring ($2,999.99)
Because this is a special moment in your life, wholly unique designs are still extremely popular, Zehrer says. These help bring a couples' special vision to life. "The Vera Wang Love collection at Zales, for example, makes it easy to customize an engagement ring by allowing the customer to choose the perfect diamond shape, size and quality, as well as the setting and metal type," she says.
The Devonna Ring ($2,750)
"The most resounding trend in engagement rings this year is colored stone rings," Ko says. "This can be anything from moonstones to topazes, through sapphires and rubies, and on to more unusual diamond types like rose-cut or rustic diamonds."
Pear Cut Ring ($650)
It's not just the stone itself that has been influenced by today's trends. Landau says yellow gold has become one of the most requested metals on engagement ring bands. "It brings a bit of depth and uniqueness to a classic ring," she says.
Italic Cluster Ring ($625)
Shoppers should always know what to expect before buying a ring, Mejuri's Lancon says.
"When shopping online, we're always huge proponents of doing your research and buying from a brand you trust," she says. "Our customers know when they buy a Mejuri engagement ring, they're getting a high-quality, ethically handmade piece. We offer a two-year warranty and have clear practices regarding social responsibility and ethical stone sourcing."
Luxe Ballad Diamond Ring ($1,350)
For a design that comes with a micro-pave diamond band, this classic engagement ring fits the bill.
Blue Topaz Solitaire Ring ($639)
Jessica Ilitzky Lombrozo of the jewelry brand Luisa Alexander has also noticed a boom in colored gems. "We've seen gemstones such as emeralds as an alternative to diamonds over the years, and now they are coming in strong," Lombrozo says. "People are now breaking tradition, and are also seeking different cuts and mixing nontraditional shapes."
Garnet Oval Ring ($349.99)
This design marries both the oval stone trend, as well as the colored gemstone one.